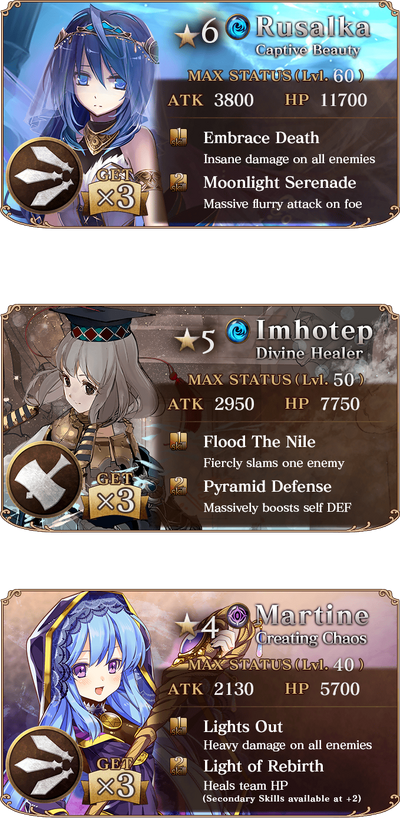 Event Time
Edit
From after 12/11's maintenance to 12/18 00:00 AM PST/PDT
Overview 1
Edit
You can get Cobalt Medals from participating in Battles during the event.
Your rank will be determined by how many Cobalt Medals you have. Rank rewards will be sent during maintenance after the event has finished.
How to get Cobalt Medals
Edit
From designated Battle ranking rewards.
4 Cobalt Medals per Battle won.
10 extra Cobalt Medals from winning 5 Battles in a row. (Consecutive wins are counted within each battle time bracket.)
Overview 2
Edit
Water attacks deal 50% extra damage during battles.
Overview 3
Edit
Quest bosses have a chance of dropping Mini BP Potions during the event. (Only the bosses of quest names ending with '-4')
Overview 4
Edit
1.5x the Cobalt Medals from 12/14 + 1.5x the Cobalt Medals will be awarded from 12/14's Battle I onwards.
2x the Cobalt Medals from 12/16 + 2x the Cobalt Medals will be awarded from 12/16's Battle I onwards.
These bonuses effect the Medals received from winning, consecutive winning, and battle ranking.
Overview 5
Edit
Those who place in the lucky rankings (501-510) at the end of Battle IV and Battle VII will receive a 5★ Imhotep, Divine Healer as a special reward.
You MUST place in the designated ranking in order to receive the unit.
The Medals you've earned, that you haven't received, will be added into the calculation of your rank.
Your ranking may change after maintenance.
Using any bugs/tools/hacks to gain an advantage will result in a Permanent Ban.
Event content and availability may be subject to change without notice.
Ad blocker interference detected!
Wikia is a free-to-use site that makes money from advertising. We have a modified experience for viewers using ad blockers

Wikia is not accessible if you've made further modifications. Remove the custom ad blocker rule(s) and the page will load as expected.